Expert advice based on knowledge from the inside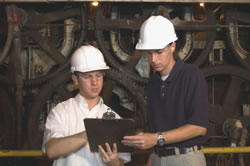 FDRsafety offers unparalleled expertise in helping companies fully comply with OSHA requirements and address the current climate of heightened enforcement.
Our OSHA compliance program is headed by Jim Stanley, former Deputy Assistant Secretary of Labor for OSHA.
On-site audit
Our safety and health audits can be customized to address any occupational safety and health issue, and are suited for companies of all sizes, from small organizations to the largest corporations with multiple locations. Our consultants identify any hazards, program deficiencies and potential OSHA violations in your operations and develop programs to address them.
Mock OSHA inspection
Our consultants conduct an actual OSHA-style inspection to accurately assess the level of compliance at any location. These inspections may be arranged so that they are unannounced and unexpected by the facility or project.
Recordkeeping compliance
We will assure that your OSHA 300 log is current and accurate.
Safety program development
We develop customized safety and health programs to guide and direct compliance with regulations.
Counseling on alleged violations
If your company has been cited, we can provide assistance that may result in reduced penalties, classification changes or violation withdrawals. We can also provide abatement assistance.
OSHA compliance expert witnesses
We can provide expert testimony on any aspect of compliance with OSHA regulations.
Request more information